Sacre Bleu! The geeks, they are taking over!
Oh ma goodness! I am such a fine duck type person, that ah 'ave given you the chance to feel een your own petit page. You can send me anything you want, to 'alphonse at jedimoose.org': letters, peectures, questions about ma amazing accent or ma wardrobe fabuleuse! Ah weel answer you only eef ah theenk you are deserving peoples.
"Pas de dents!"
Links

All works on this website, including text and images, are licensed by Ruth Gow under a Creative Commons License.

Free JavaScripts provided by The JavaScript Source
Home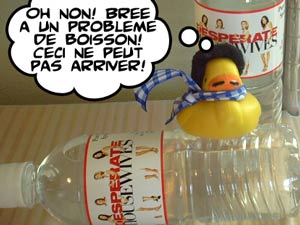 Alphonse 'as been spotted by Annie Bergin dans Les Etats-Unis!
'E as been watching a leetle too much television, especially Les Femmes au foyer Désespérées. Ah theenk 'e likes the crazy roux, who likes to clean theengs tout le temps.
Mais, 'e 'as taken theengs too far! 'E ees buying les bouteille d'eau branded avec les peectures... Ah non! Peut etre 'e weel become far too skeenny and buy les produits des cosmetic companies, et wear very pretty frocks!
Se sauver, Alphonse!
Everything on these pages belongs to moi! Ah weel send les boys round on you, eef you are naughty geek type theengs!